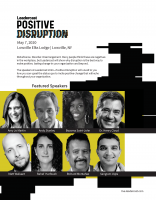 Disturbance. Disorder. Disarrangement. Many people think these are negatives in the workplace, but leadercast will show why disruption is the best way to make positive, lasting change in your organization and beyond.
The speakers at Leadercast 2020, Positive Disruption, will unveil to you how you can upset the status quo to incite change that will echo throughout your organization.
Join us for the 2nd Annual Leadercast LIVE! in Lewis County, hosted by Lewis County Economic Development, Lewis County Chamber of Commerce, and The Human Factor Leadership. Leadercast is the largest leadership conference, live-streamed from Atlanta, GA, right here in Lewis County. This event is exclusive to only those who attend the live events, or host sites, like ours. Hear from the movers and shakers in ways that inspire us to do better in Lewis County.
When: May 7, 2019
Where: Lowville Elks Lodge, Lowville, NY
Time: 8:00am-4:00pm
EARLY BIRD RATES UNTIL MARCH 31, 2020:
Early Bird Individual: $150
Early Bird Group (Table of 5): $700 ($140 Each)

REGULAR RATES FROM APRIL 1, 2020:
Regular Individual: $175
Regular Group (Table of 5): $800 ($160 Each)

Chamber Members receive 10% off! Contact the Chamber for your code!
We hope to see you there!