Arborcare Tree Service
Arborcare Tree Service has seen growth in their first year of full-time business and hopes to keep the momentum going in year two!

"We will strive for excellence and achieve all of our goals that are set. Consistency and hard work will take us every where we want to go." - Herb Frost, owner
Business Name: Arborcare Tree Service
Owner: Herb Frost
Location: Harrisville, NY
Number of Employees: 4
When did you establish your business? We started part-time in March 2016, and became a full-time business in March 2017.
Describe your start-up story? I have been in the industry since I was eighteen. Since the first day I ran a chainsaw, I was hooked. Arboriculture became a true passion of mine.
Throughout my career I have faced many challenges. Line clearance & tree trimming was my life for many years. My daughter was born in 2015. This was the biggest challenge I had faced, as I worked on the road away from my family. So naturally, I wanted to come home to work and be with my family every day. I could have gotten many other types of jobs, but being a arborist was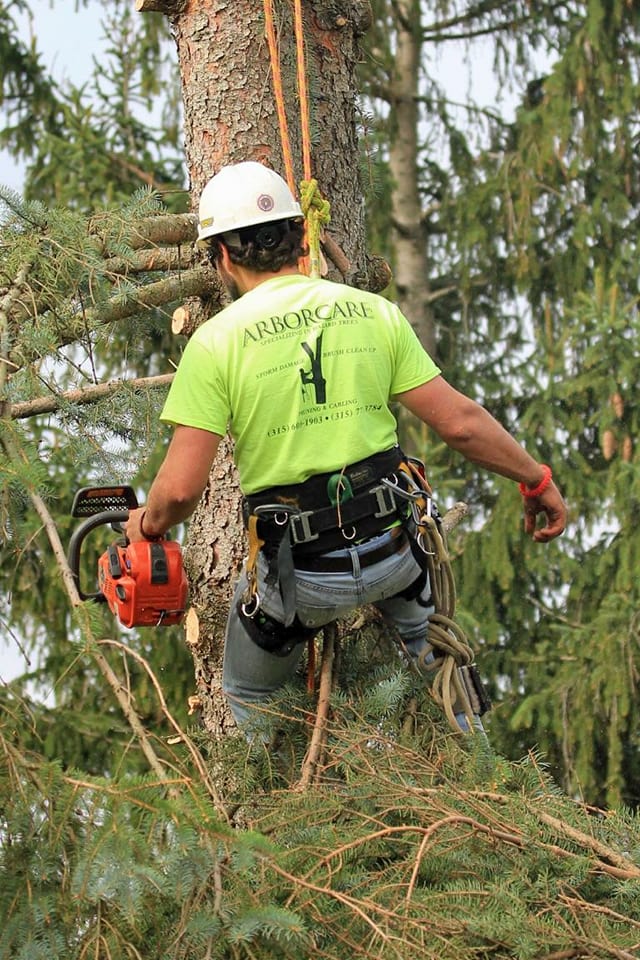 where my heart was set.
You have probably heard the saying "do something you love to do, and you'll never work a day in your life," so, I set forth a plan to start a tree care business - one that was different from the rest. One that actually took care of the trees of the North Country and to take professionalism to the next level. But most importantly, be there for my family when they needed me.
So, we started Arborcare.
Why did you start your business in Lewis County, NY? Lewis County is where I grew up - Harrisville to be exact, and that is where we operate from. The community has
been so supportive of my new business. I am so grateful for the helping hands that come from every direction - and from what I have found, it is like that in much of the County. It's just a great place to live and run a business.
What challenges have you faced while starting a new business? It has been hard work getting my name out there as a new business in the tree service industry. Many of the established tree service companies have been around for thirty plus years. But, I believe a challenge is always good for any business and it promotes growth within the industry.
What are some of your business highlights since opening? We have been able to work in some of the most beautiful sceneries and meet great people along the way. I've lived in the area my whole life and it's awesome to be able to work in one corner of the North Country one day, and the other corner the next. It's a perfect job in my eyes.
Where do you see the future of your business going? We will strive for excellence and achieve all of our goals that are set. Consistency and hard work will take us every where we want to go. We plan on continuing to set the example of professionalism and safety of arboriculture in North Country.
How has Lewis County Economic Development been of assistance to you, if any? Lewis County Economic Development has been a huge help. Since our first contact they have helped us with working capital and equipment loans. Arborcare might exist without Lewis County Economic Development, but we wouldn't be where we are. We are forever grateful.
Want to learn more about Arborcare?
Visit their website!
Visit their Facebook Page!