Homes Realty of Northern New York
Business Name: Homes Realty of Northern New York
Owners: Brenda & Steve Malone
Number of Years in Business: 4 years in January 2019
Number of Employees: None are employees, but we have a team of 15 realtors
Location of Business: 5411 Shady Ave. Lowville, NY 13367
Describe your start-up story. After being a realtor for 11 years, on Jan 1, 2015, my husband and I made the decision to dare to dream, and start my own company. Homes Realty was always the name I wanted, and I could envision everything in my head. It was time to take action with the vision and make it reality.
With countless family and friends cheering us on, Homes Realty of Northern New York became reality Jan 17, 2015 with the Department of State. We had a home office the first 3 years, which made it possible to keep overhead low. When our team turned into a total of 15, it was time to expand our walls.
We recently moved into the 5411 Shady Ave., Lowville NY store front. It took about a month of late nights, countless gallons of paint, and vision, to turn that space into our office with our touch on it. We are beyond thankful to all those who have listed, and bought, and used Homes Realty of Northern New York as your Real Estate Company over the past few years. It is because of you, we have been able to move forward to provide a better office space, and improve our clients experience with us. We look forward to the future with anticipation, and my husband Steve and I are so appreciative of those who have encouraged us, and stood beside us, along the way. I'd be wrong to not give credit to the amazing team of agents that work for Homes Realty. We refer to our agents as our "Homes Family," and we feel they are the best of the best who are passionate about the real estate business.
Why did you choose to do business in Lewis County, NY? Having been a life long resident of Lewis County, I couldn't imagine starting up a business anywhere else. Lewis County has been my lifetime home, and starting up a new business in an area where I was a stranger, wouldn't even have been my desire or dream. The business had to be in a place that I call "home."
What are the advantagages and/or opportunities of doing business here? I believe in "Small Town USA." I feel there are many benefits to opening up a business in a small town, especially the town I was raised in. There's a lot to be said of knowing your neighbor, and for real estate business, knowing and trusting your real estate agent. Buying and selling property is a major decision, and can be the largest purchase of your lifetime. Having a realtor that you know and can trust, can help relieve some of the stress involved in the process.
What advice would you give to someone starting a business in Lewis County? If you dare to dream it, you can do it. My one word of advice is to always treat people fairly, as you would want to be treated. Reputation is the most important part of a business. It means everything. ALWAYS be honest, have integrity, and be someone that can be trusted. If a business does that, they can't go wrong. The quote is "it's never right to do wrong" has always been something I think of in decision making. It will never lead you astray.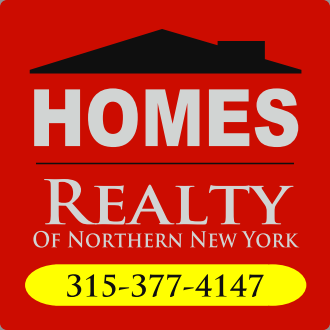 Want to learn more about homes realty of northern new york?