Open Sky Wellness, LLC
Megan Kraeger, a Lewis County native, has pursued her dream of owning her own wellness center. Working towards her Clinical Nutritionist certification, Megan took a leap of faith that is helping to make her hometown community a healthier, better place to live!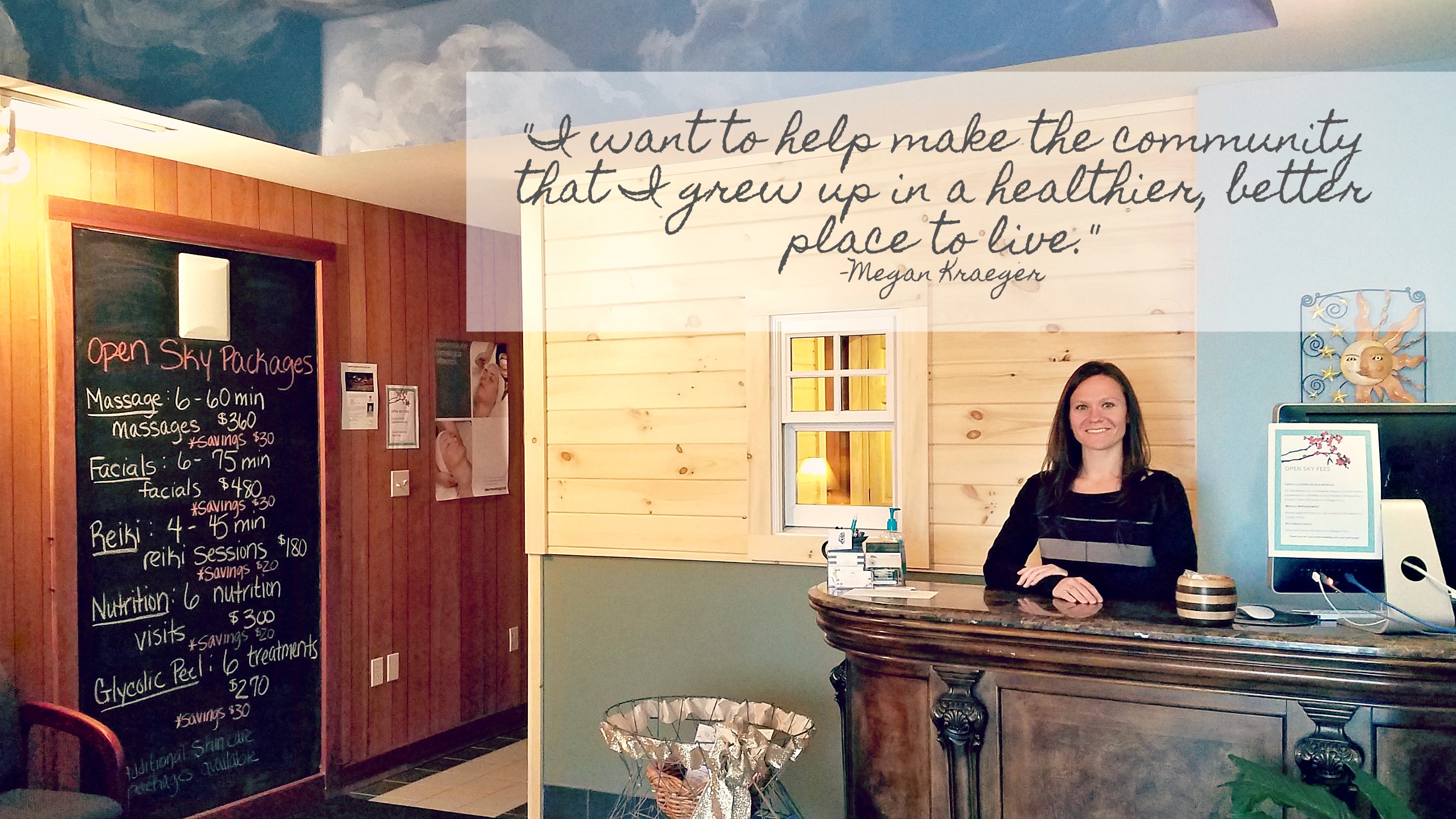 Business Name: Open Sky Wellness, LCC / 7383 Utica Blvd, Lowville, NY
When did you establish your business? Open Sky Healing Arts Center was establisehd in 2001 by Kathleen Merrick. In July 2017, the name changed to Open Sky Wellness, LLC, under new ownership of Megan Kraeger, a Lewis County native.
Number of Employees/Therapists
1 - Megan Kraeger, Owner & Clinical Nutritionist
8 - Licensed Massage Therapists
1 - Licensed Esthetician
1 - Reiki Practitioner
Describe your start-up story. I finished my Master's degree in Clinical Nutrition this past spring and was looking for a space to start my Nutrition practice. I reached out to the previous owner of Open Sky, Kathleen Merrick, to secure an office space to begin my practice. We had a great first meeting and decided I would start occupying the space on the weekends. Kathleen mentioned she was selling the business and she had an interested buyer. I told Kathleen, "if that falls through, please let me know, I may be interested."
A couple of weeks later, Kathleen notified me that the opportunity to purchase the business had opened up. After several meetings and hours of research, I decided to pursue my dream of owning a wellness center. I transitioned from a full-time employee at Lewis County Public Health, to part-time, and began my journey as a business owner in Lewis County!
Why did you start your business in Lewis County, NY? I have lived in Lewis County my whole life. Although I love to travel, it is always good to come back home. I want to help make the community I grew up in a healthier, better place to live.
What challenges have you faced while starting your new business? Juggling my time managing the business, working part-time for Lewis County Public Health, starting my own nutrition practice and working towards obtaining the Certified Nutrition Specialist (CNS) credential have been the initial challenges in starting this venture.
What are some of your business highlights since opening? One of the biggest highlights is the additon of Nutrition Services! We have also expanded the Care in the Community Veteran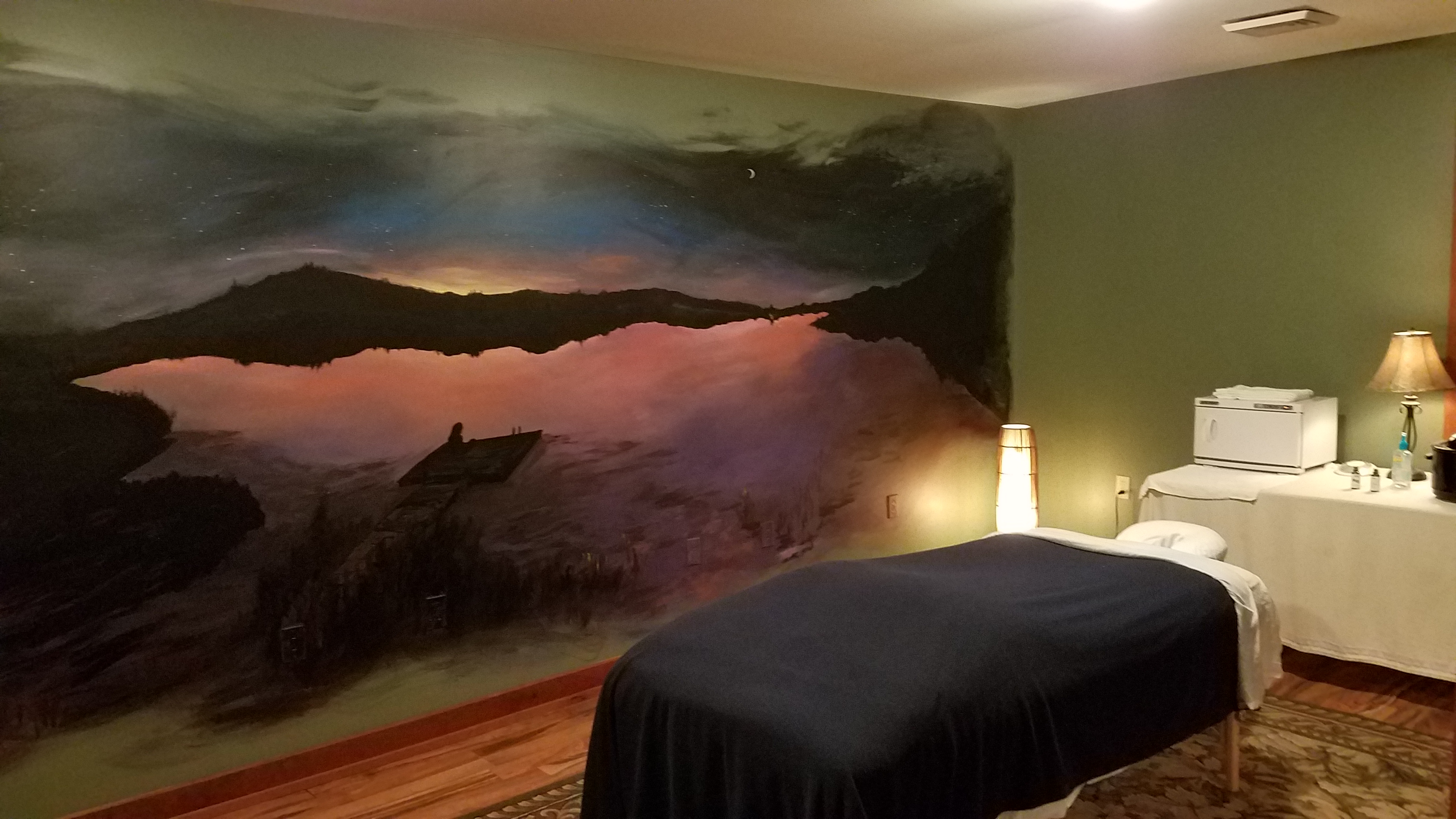 Program, which is a program where we provide therapeutic massage therapy to 36 veterans in Lewis and Jefferson counties. Veterans are authorized to receive weekly massage therapy to help with pain related conditions.
One of our newest additions to the wellness center is an Infrared Sauna, which has numerous health benefits! The infrared rays penetrate your skin to heat your body beneath the surface. It warms the body at much lower temperatures than a steam sauna because the rays penetrate into muscle tissue. The direct heat causes your blood vessels to dilate - therefore increasing circulation and heart rate, while decreasing blood pressure. Other benefits of the sauna include decreasing joint stiffness, weight loss, lowers blood sugar, lowers cholesterol and triglycerides, relieves muscle spasms, pain relief, helps with skin conditions: acne, eczema, psoriasis, burns and skin lesions, improves skin tone and elasticity, boosts immune system and detoxification.
What is the future of your business? I am looking to expand Open Sky by offering additional wellness services and health/wellness retail items. Two of our massage therapists are pursuing further education in cupping therapy, which we hope to start offering in the beginning of 2018. I also hope to bring back acupuncture to Open Sky. My goal is to have a variety of natural health services and products available for community members!
How has Lewis County Economic Development been of assistance to your business? I have attended a couple of the seminars Lewis County Economic Development has put on. They have also helped put me in contact with organizations as I started the business and planning process and they continue to assist with promotion of my business.
Want more information on Open Sky Wellness?
Check out their Facebook Page!