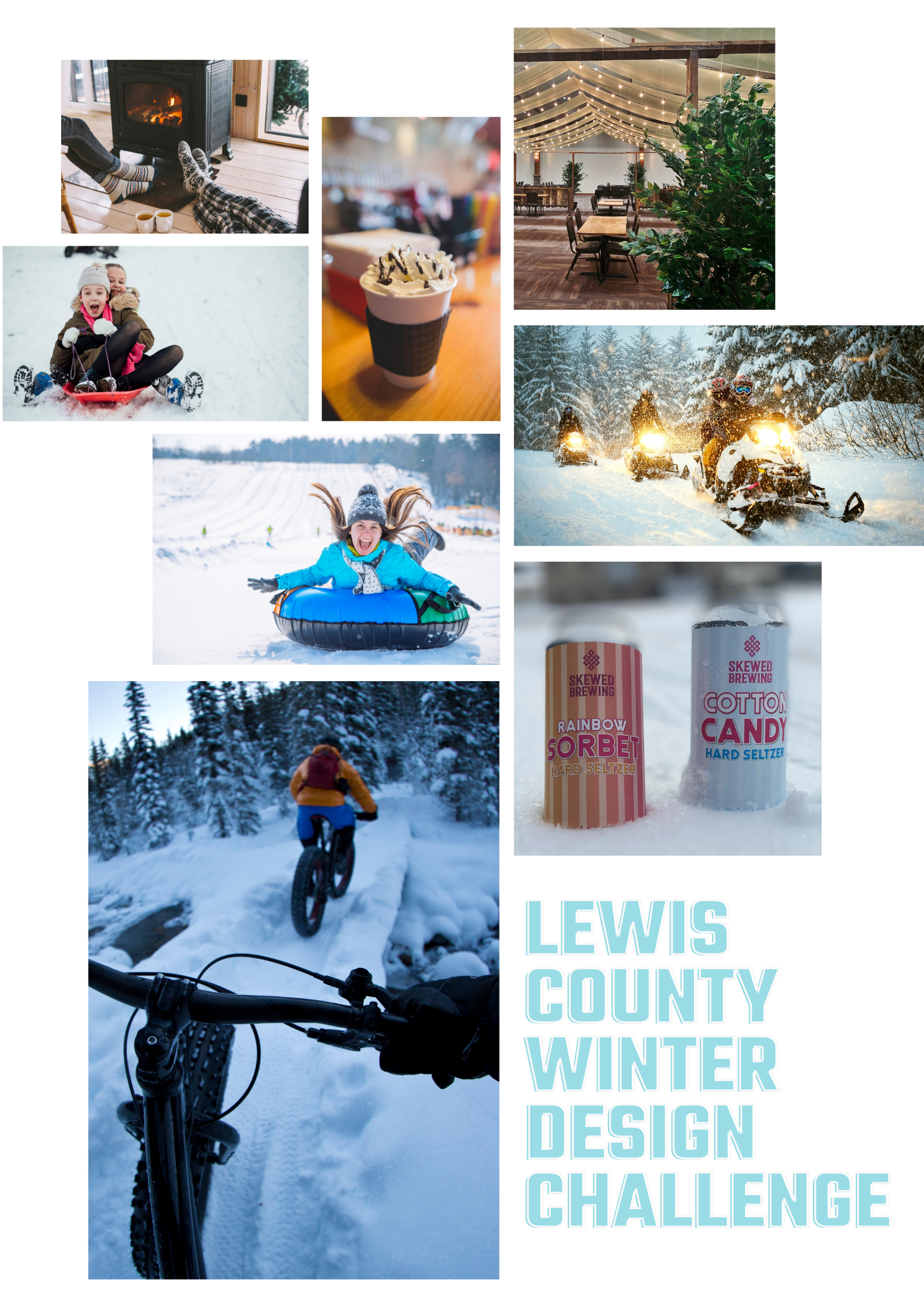 Lewis County, NY – The Winter Design Challenge Grant Program developed by the Lewis County Development Corporation (LCDC) is delighted to announce a second round of funding awarded to Lewis County entities. Amid the pandemic, businesses are forced to think creatively and prepare for the upcoming winter season taking into consideration the safety of their staff and customers. The Winter Design Challenge Grant Program was created to fund creative projects that assist tourism, entertainment, and hospitality businesses with solutions to stimulate and encourage safe outdoor experiences and unique service solutions.
The LCDC announces $6,900 of grant funds have been awarded to the following entities implementing creative solutions this winter season:
Towpath Restaurant & Lodge – Covering and enclosing the existing restaurant deck and adding an outdoor carpet.
Plant Powered Period / BOOM! Energy – Planning several Snowshoe and FatBike Races throughout the 2020 Winter Season in Lewis County.
PBJ Café – Planning to construct a drive through window for long term operation and implement an online ordering system.
Skewed Brewing – Planning to further promote their location on Trinity Avenue in Lowville for curb side beer pick up with proper signage.
Maple Ridge Center – Constructing a new warming shelter with patio heaters, addition of a drive-thru ticket area and sanitation station for snow tubes.
Lost Trail Snowmobile Club – Constructing an outdoor warming and welcome destination for snowmobilers to enjoy.
Southern Tug Hill Sno-Riders – Planning to facilitate outdoor spaces to be used by snowmobilers or other visitors at local restaurants and food carts (The Milk Plant Tavern, the Tug Hill Hideaway, Barrows Performance and the Highmarket Inn) with additional seating options.
The LCDC, with the assistance of the Pratt Northam Foundation and Lewis County, has administered $15,470 to Lewis County businesses, clubs and events that have demonstrated a proactive approach to the 2020-2021 winter season amid the pandemic (see full list of grant recipients). The LCDC is urging all businesses to think creatively and prepare for the safety of staff and visitors alike. Tourism, entertainment and hospitality businesses with creative outdoor experiences or unique service solutions can still apply for funding on our website at https://naturallylewis.com/business-support/winter-design-challenge.
###
About the Lewis County Development Corporation
The Lewis County Development Corporation, a Local Development Corporation, is a not-for-profit countywide organization dedicated to utilizing and creating assets for economic and community development. This community-based organization is intended to be proactive, flexible, and able to act decisively and quickly. We will identify research, fund, develop, and manage projects, programs, and businesses that increase economic opportunities for Lewis County and its residents. We recognize the critical need to work together with all agencies and organizations involved in economic development to achieve a common goal of increasing the quality of life for all people in Lewis County.  We also know that we can be a critical component for success in the revitalization, economic stabilization, and future expansion efforts, recognizing the following areas as points of focus for success in fulfilling our mission.