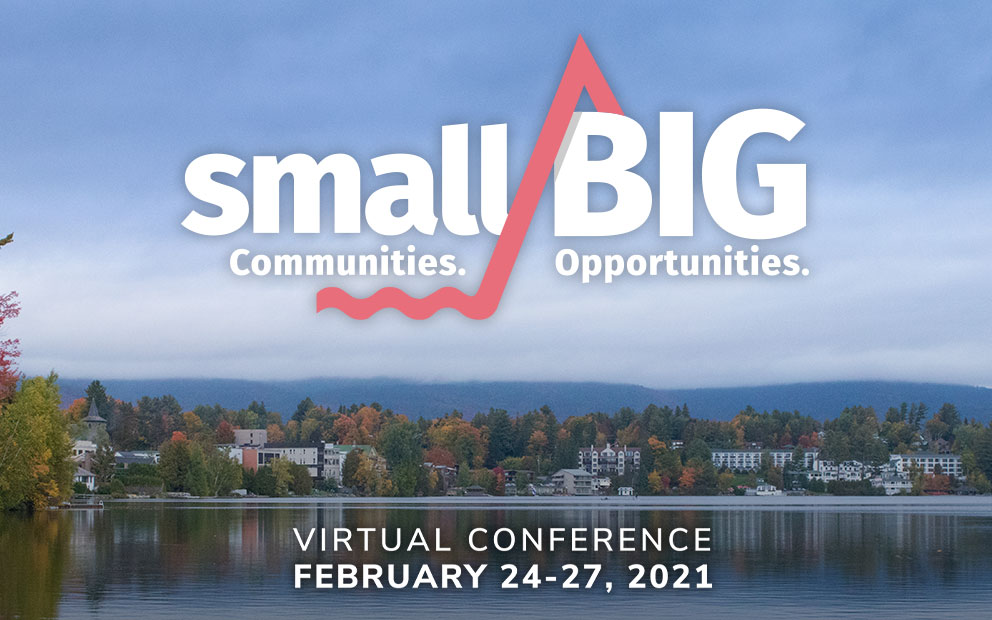 Small Communities. Big Opportunities.
Virtual conference highlights business ownership in northern New York State


FOR IMMEDIATE RELEASE
Date: January 26, 2021
Contact: Audrey Schwartzberg, ANCA Communications Associate, (518) 891-6200 or aschwartzberg@adirondack.org
SARANAC LAKE, N.Y. — A regional coalition aims to showcase small business opportunities to the next generation of entrepreneurs in a four-day virtual conference running from February 24-27, 2021.
The North Country Center for Businesses in Transition (CBIT) will host a virtual event that will attract and empower aspiring entrepreneurs to pursue business ownership in northern New York. The conference — Small Communities. Big Opportunities: Own a North Country Business — will include several one-hour sessions over the course of four days to accommodate participants' work schedules. Registration is free of charge and now open at www.northcountryopportunities.com.

"There are thousands of business owners throughout the region who are ready now or will be ready to sell in the next few years," said Danielle Delaini, business transition program coordinator for the Adirondack North Country Association (ANCA). "There's also growing interest among North Country residents and entrepreneurs from outside the region to operate businesses here. This conference is designed to address these needs and ultimately invigorate local economies with new energy."
The conference will take place virtually over four days, with most sessions lasting one hour. Participants may choose to attend the entire conference or only the sessions that interest them. Attendees will learn from local business owners and regional business support professionals about taking over an existing business, the logistics of accessing capital and insights into relocating to the North Country. In addition, conference sessions will highlight available business ownership opportunities and connect aspiring entrepreneurs with retiring business owners.
"The goal is to provide a space for entrepreneurs to explore opportunities in the region, while providing tools and resources to help them realize their dreams," said Angela Smith, assistant director of SUNY Canton Small Business Development Center (SBDC) and a lead partner with CBIT. "This is an opportunity for all aspiring business owners to learn, ask questions and connect with regional businesses and support services, regardless of where they are in their entrepreneurial journey."
Conference attendees will also be invited to sign up for one-on-one meetings with owners whose business opportunities interest them. Invited business owners will come to the conference ready to speak to potential buyers, having prepared their books and determined their business value ahead of time. During and following the conference, representatives from CBIT and SBDC will facilitate working groups and other services that support business owners and potential buyers through the business transition process.
Pete Cummings of Clinton County, N.Y., is ready to sell his property maintenance company and meet with aspiring entrepreneurs — a task made difficult during the COVID-19 pandemic. "I want to be part of the virtual conference because COVID-19 has made it difficult to meet with potential buyers in person, my preferred method. I look forward to meeting with people interested in new opportunities in the North Country."
CBIT, which was partially funded by a grant from the Northern Regional Border Commission in 2018, addresses the loss of area businesses by providing matchmaking services with potential buyers, access to planning tools and connection with existing services. The Center's 2021 efforts have expanded to also support aspiring entrepreneurs who wish to purchase an existing business in the region. CBIT serves 14 counties in northern New York: Clinton, Essex, Franklin, Fulton, Hamilton, Herkimer, Jefferson, Lewis, Oneida, Oswego, Saratoga, St. Lawrence, Warren, and Washington Counties.
Registration for the conference is now open at www.northcountryopportunities.com and free of charge. Questions may be directed to transitions@adirondack.org.
CBIT partners include Adirondack Economic Development Corporation (AEDC), Adirondack North Country Association (ANCA), Adirondack Park Agency Economic Services, Essex County Industrial Development Agency, Franklin County Economic Development, Hamilton County Economic Development, Lewis County Economic Development, St. Lawrence County Chamber of Commerce, Saranac Lake Area Chamber of Commerce, SUNY Canton SBDC at Clinton Community College, Ticonderoga Area Chamber of Commerce, and Greater Watertown-North Country Chamber of Commerce.