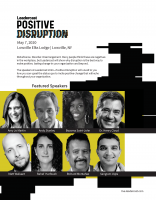 Disturbance. Disorder. Disarrangement. Many people think these are negatives in the workplace, but leadercast will show why disruption is the best way to make positive, lasting change in your organization and beyond.
The speakers at Leadercast 2020, Positive Disruption, will unveil to you how you can upset the status quo to incite change that will echo throughout your organization.
Join us for the 2nd Annual Leadercast LIVE! in Lewis County, hosted by Lewis County Economic Development, Lewis County Chamber of Commerce, and The Human Factor Leadership.