Lewis County Economic Development was recently recognized at the 2017 New York State Economic Development Council (NYSEDC) Annual Meeting with a Certificate of Excellence for the new Naturally Lewis Website!
This award was presented to the Director of Lewis County Economic Development, Eric Virkler, at the NYSEDC Conference that took place on Thursday, May 25th at the Otesaga Hotel in Cooperstown, NY.
According to officials, the Annual Meeting represents a time for New York's economic development community to acknowledge those that are raising the bar within the economic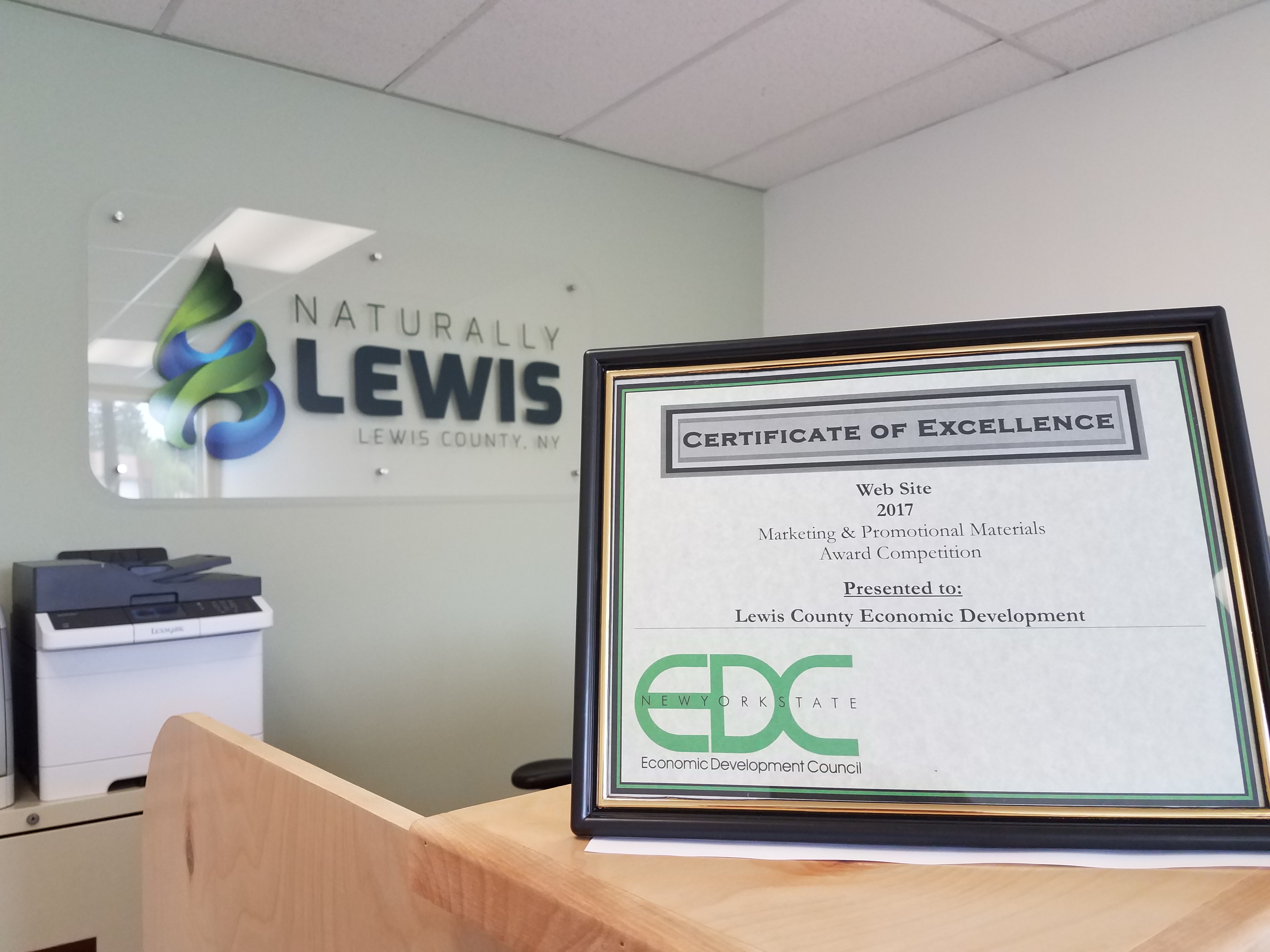 development practice, and the Marketing Awards recognize a combination of creativity, marketing savvy, and substantive knowledge of the New York marketplace that make our state a robust destination for business attraction and expansion efforts.
The award notice stated, "Your team's diligence, attention to detail, and deep knowledge of your prospective audience showcases the leading practices in economic development marketing, and we encourage you to use this opportunity to acknowledge the staff and vendors who have contributed to Lewis County Economic Development's success in front of the 200+ economic and workforce developers that will attend the event. This is a great opportunity for staff development and recognition, and we encourage your organization to attend the Annual Meeting to accept this award in person and invite you to include other members of your team."
The Naturally Lewis website was desinged and created both in part by The Pagie Group of Utica, NY and Coughlin Printing of Lowville, NY, and is used for the promotion of Lewis County and the outreach to businesses within targeted industries identified by Lewis County (Dairy & Food Processing, Natural Resource Based Industries & Small/Cottage Businesses). The intent is to encourage business start-ups and growth of existing businesses within Lewis County. The website also promotes the "Lewis Life," promoting Lewis County tourism and outdoor recreation.
For more information on how Lewis County Economic Development can help your business, visit the website naturallylewis.com or contact the office!
315-376-3014