The Lewis County IDA worked diligently with the Village of Lyons Falls, Lewis County Development Corporation and the Development Authority of the North Country in securing a $500,000 grant from the Restore NY Communities Initiative for Phase 4 of the Lyons Falls Mill clean-up project.
The Restore NY program was established by Governor Andrew Cuomo to revitalize commercial and residential property, attract residents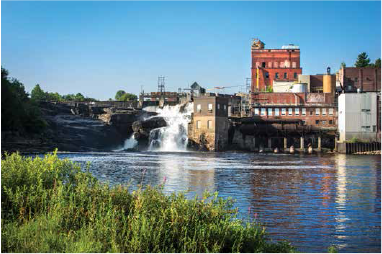 and businesses, increase tax base and make communities in New York State economically viable. Funding is available for projects involving demolition, deconstruction, rehabilitation and/or reconstruction of vacant, condemned and surplus properties.
"These projects will help bring new vitality and opportunities for growth to communities across New York by transforming blighted properties and making key infrastructure investments," Governor Cuomo said. "With this funding, we are helping to build stronger regional economies and are laying the foundation for a more prosperous New York for all."
The Lyons Falls Mill Demolition has been underway since 2014 and is currently in Phase 3 of the project. Phase 4, the final phase, is estimated to cost $1.6 million in demolition of the final buildings and ancillary structures, as well as hazardous materials abatement throughout the 9-acre property. This $500,000 award is a huge victory for the Lewis County IDA and Village of Lyons Falls, as majority of the mill clean-up has come from grant funding in the past.
It has not yet been determined the future use of the mill site, but the 9-acre, waterfront site will be ready for redevelopment at the completion of Phase 4, which is anticipated to end in 2018. The Village of Lyons Falls has been working with outside consultants in determining the future use of the property through the Lyons Falls Brownfield Opportunity Area program.